Colormaker Industries Turns 60 with a Big Birthday Bash!
Colormaker Industries celebrates our 60th Birthday this year in 2018. We've come a long way since our inception in 1958, as a small paint manufacturer based in southern Sydney, manufacturing Pelican water-based paints.
To celebrate our 60th Birthday, we'll be running a series of Birthday events, offering compelling specials to both our consumer and trade customers plus some free gifts to all of our loyal customers.  The first of these '60th Birthday Sale' events commences in April.
There'll be some fun events happening at Colormakers Shop and factory complex, 44 Orchard Road Brookvale; including a fabulous mural painted by acclaimed Sydney street artist, Mulga the Artist, using some brilliant colours from the Permaplastik scenic paint range.  Here's an example of one of Mulga's amazing murals painted using our Permplastik glow paints.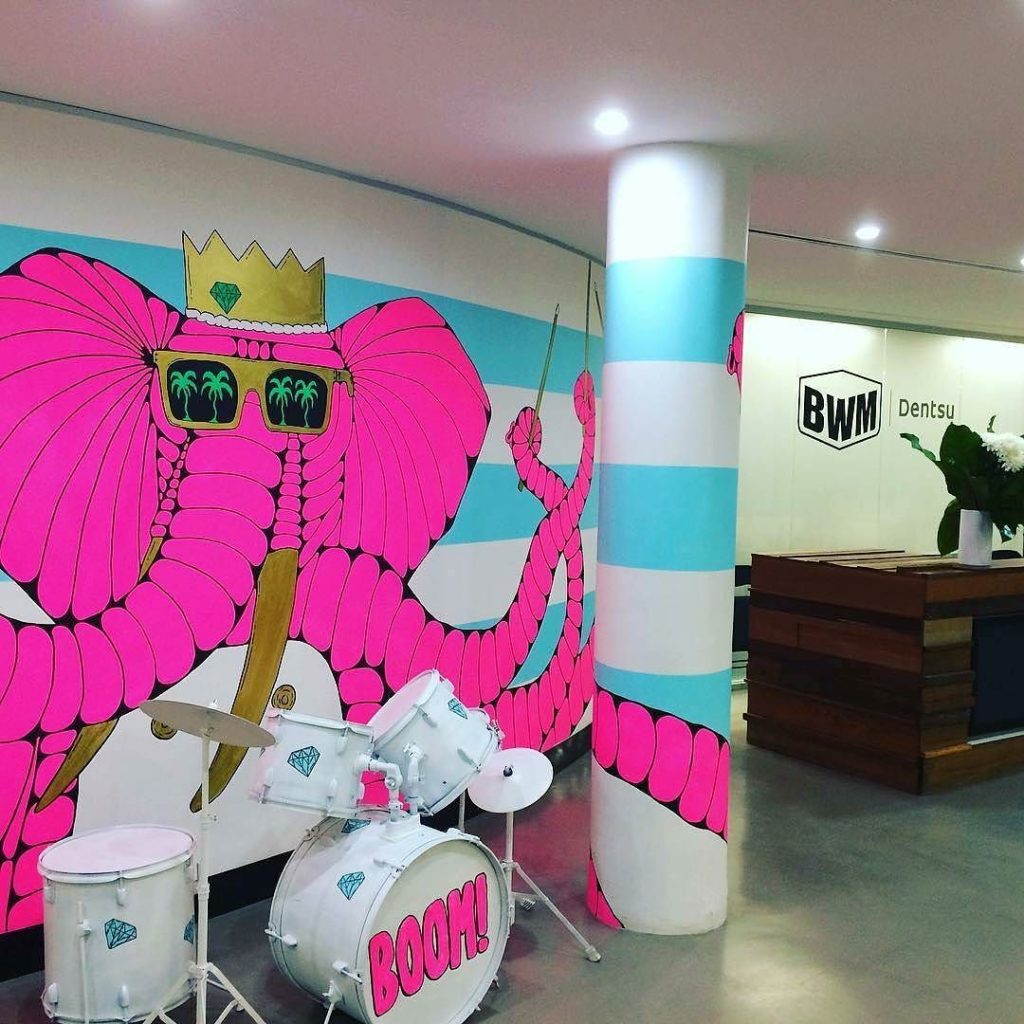 About Colormaker's History
The company commenced operations in Brookvale in 1958, originally known as G & H Chemical Industries founded by Mr Gregory Givorshner from the Ukraine. At this time the company manufactured enamel house paints, with Mr Givorshner originally producing his own resins in a gas kettle!
In the 1960's, the company began manufacturing water based house paints, moving their production to the current location at 44 Orchard Road, Brookvale. During the early 1970's there was a joint venture with a company called Permapaints in Coogee which manufactured Permaset inks and Permaplastik sign writing colours. However eventually Mr Givorshner bought out his partner in Permapaints, consolidating both companies into Colormaker Industries and manufacturing house paints under the brand Pelican Paints.
Colormaker's current owner, David Stuart, has a long history on the peninsula. He was born in Manly Hospital and raised in Mosman and the Lower North Shore. David commenced his involvement with Colormaker Industries originally as Sales Manager. His passion for the coatings sector, and Australian research and development, combined with his insight into the potential of high quality paints and an environmentally friendly inks range, inspired him to take over Colormaker Industries in 2003. With David's background in industrial chemistry, Colormaker developed some premium new product ranges including:
LUXAPOOL premium pool and aquatic coatings
Permaset Aqua eco-friendly screen printing inks
ACRYLMERIC building and trade construction coatings range
Colormaker house and architectural paints
PERMAPLASTIK scenic paints
This product range constantly evolves, and is continuously upgraded through a vigorous R & D program to keep up to date with the latest technologies.
Checkout what's happening at our 60th Birthday Sale Event in April:
Popular street artist Mulga the Artist will be painting a fantastic mural with an 'Underwater' theme at our  offices using PERMAPLASTIK scenic paints, assisted by local St Augustines high school art students.  It's happening on Wednesday 11th April from 10am.  Come in and see Mulga the master at work and checkout his amazing mural!
We'll be offering 36% Off the RRP of the entire range of Colormaker house paints for April 2018, only in our Shop in Brookvale.
Plus 36% Off the RRP of the entire range of ACRYLMERIC construction coatings, including exterior elastomeric membranes, waterproofing membranes, sportscourt coatings, concrete sealers, textured coatings, epoxy floor coatings and more. Again, get these great discounts in our Colormaker Paint Shop, 44 Orchard Road, Brookvale.
For 1 week only, 9th – 14th April 2018, we'll be offering 10% off the RRP of our most popular LUXAPOOL(R) epoxy pool paint colour – Pacific Blue!  If you're thinking of upgrading your swimming pool – now is the time to save on Australia's No. 1  LUXAPOOL pool paint!  Get this deal only at our Colormaker Paint Shop in Brookvale.
For our screen printers and art and craft customers, Colormakers will be offering 36% Off the RRP of the entire range of Permaset inks for the month of April, only in our Paint Shop in Brookvale.
FREE GIFTS! It's our birthday but our loyal customers will receive the presents!  All trade customer wholesale orders will receive  a 4 x 4L pack of our top selling COLORMAKER Ceiling White paint with their orders, and our over-the-counter customers who visit the COLORMAKER paint shop in April will all receive a special jar of 'celebratory' Jellybeans with every purchase.
So pop into the COLORMAKER Paint Shop in April, and get yourself some amazing paint deals.  There's parking at the rear of our Shop, and you wont be able to miss us for the big bunch of green balloons out the front, at 44 Orchard Road, Brookvale.  We look forward to welcoming you to Colormaker Industries' 60th Birthday Sale!
Phone Colormaker Industries on 02 9939 7977 for further information.