Primers, Sealers & Undercoats - Features And Benefits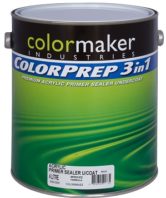 Colormaker Colorprep 3-in-1 is an excellent all-purpose water based, undercoat with superior filling and sanding properties. It is an ideal undercoat sealer for water based paints. This primer/sealer/undercoat is suitable for interior and exterior use on a number of substrates and ideal as a preparation coat for render, plasterboard, plaster, hardboard, soft/porous timber and general masonry surfaces.
Designed for application by brush, roller and airless spray.
Can also be tinted to aid in the coverage of deeper colours, and is available in 1L, 2L, 4L, 10L and 15L pails to suit your every need.
Touch dry in 20 minutes and can be re-coated in 2 hours, at 25 degrees with relative humidity.
Acrylic Sealer Undercoat.pdf