Acrylmeric Sportscote PFR Membrane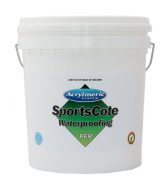 ACRYLMERIC Sportscote PFR is a decorative, trafficable membrane designed to provide an extremely tough, flexible, elastic barrier coating which is water resistant and weather resistant. This product is hardwearing and seamless, acting like a 'raincoat' over trafficable surfaces. Can be applied to concrete surfaces.
Ideal for sports courts such as tennis courts, basketball courts, volleyball courts, netball courts and more. Other applications include balconies, verandahs, roofdecks, rooftop carparks and more. It is an extremely tough water-based acrylic co-polymer coating which features both flexibility and elasticity – drying to an extremely resilient high build film. Sportscote PFR can be reinforced if required. It is non-slip and offers thermal insulation.
Suitable for exterior and interior use, Sportscote PFR is low VOC, resistant to the growth of algae and fungus and provides excellent protection from the harmful effects of UV radiation – simple to apply and easy to clean-up in water. Adhesion is enhanced when primed with Acrylmeric Superseal Primer.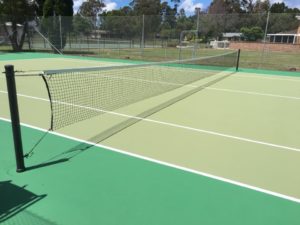 Usage:
Balconies & Verandahs
Roof Decks
Sports Courts
Boat Decks
Primer: Acrylmeric Superseal Primer
Tennis Court Paint Calculator
Use our Tennis Court Paint Calculator to work out the paint you need for your tennis court(s).
Colours
SPORTSCOTE PRF is available in 15 popular colours.
Ask us about our factory colour matching service.
Platinum Grey
Platinum Grey
Also available in Road Marking Yellow