A great marker of how the UK fashion industry regards the ethical fashion movement is the seasonal reaction to the Estethica exhibition, which showcases ethical and eco labels.
Estethica has found its way into the spotlight this season, opening London Fashion Week with Noir's catwalk and the launch of the Sustainable Clothing Action Plan. The bar has most definitely been raised in design terms as well, with some very forward looking collections on show from hot new fashion talent. Unquestionably three of the brightest stars are Christopher Raeburn, Ada Zanditon and Mark Liu.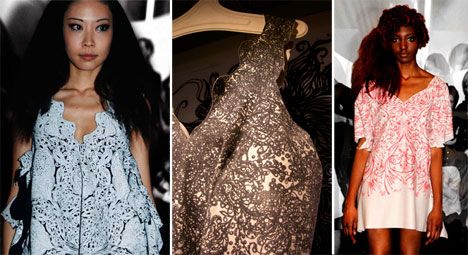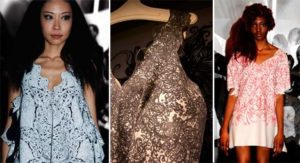 This season Mark Liu (a zero waste champion with his innovative approach to pattern cutting, eliminating any possibility of offcuts) continues to innovate this time with an amazing new dye technology called Permaset Aqua, a new water based pigment manufactured by Australian company Colormaker Industries. The pigment's microscopic particles bond with the fabric obviating the need for toxic mordent chemicals.
Appropriately Liu's AW09 collection is called 'Singularity Point', which he explains is a phenomenon where "a system becomes aware of its own limitations and eventually rewrites its own rules to take control of its own destiny." We're definitely impressed by the way Liu's work is rewriting the rules, combining technology + creativity to show us the future of fashion.
For full details of this article, please see https://www.treehugger.com/files/2009/02/lfw-estethica-talent.php