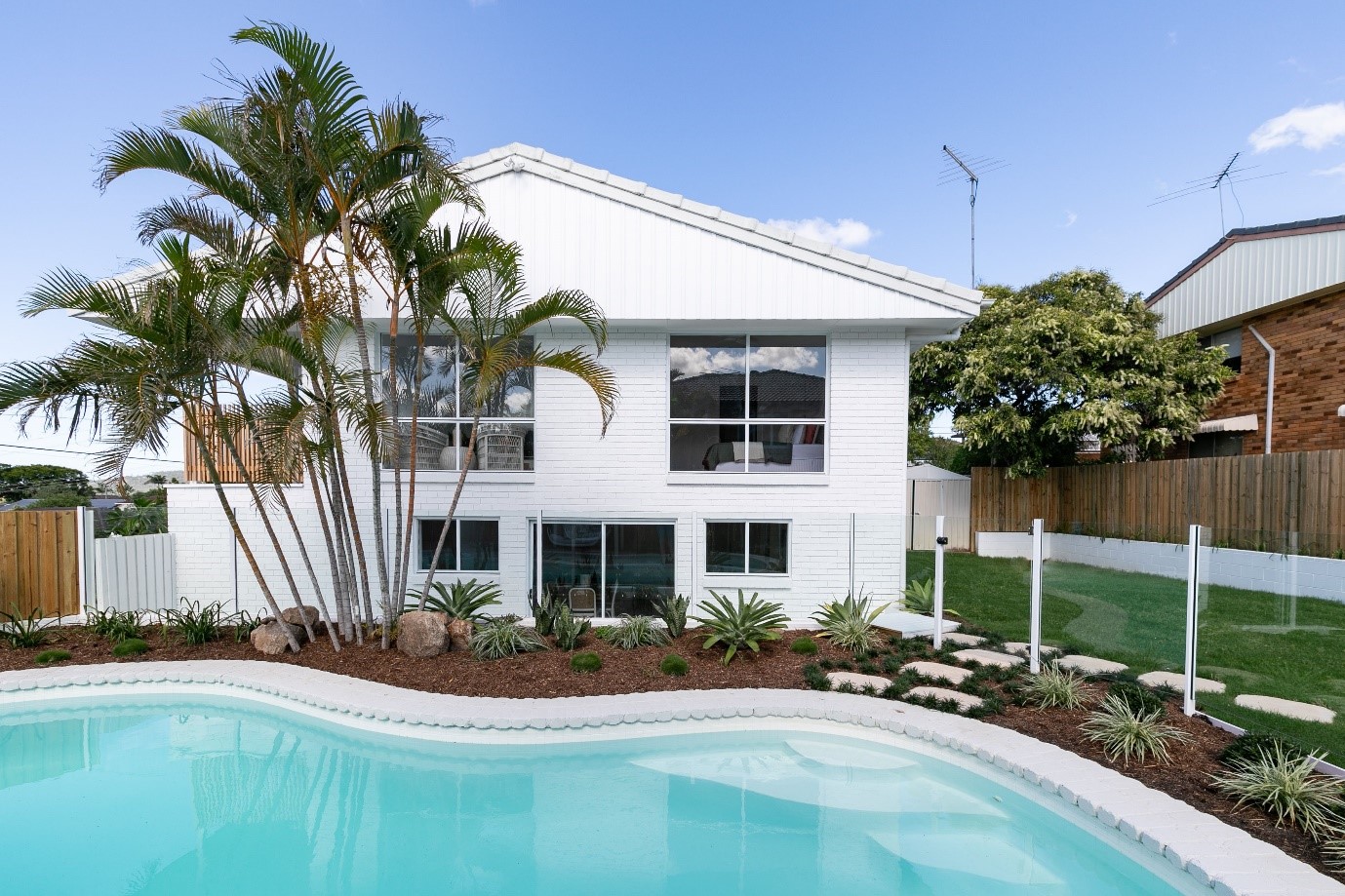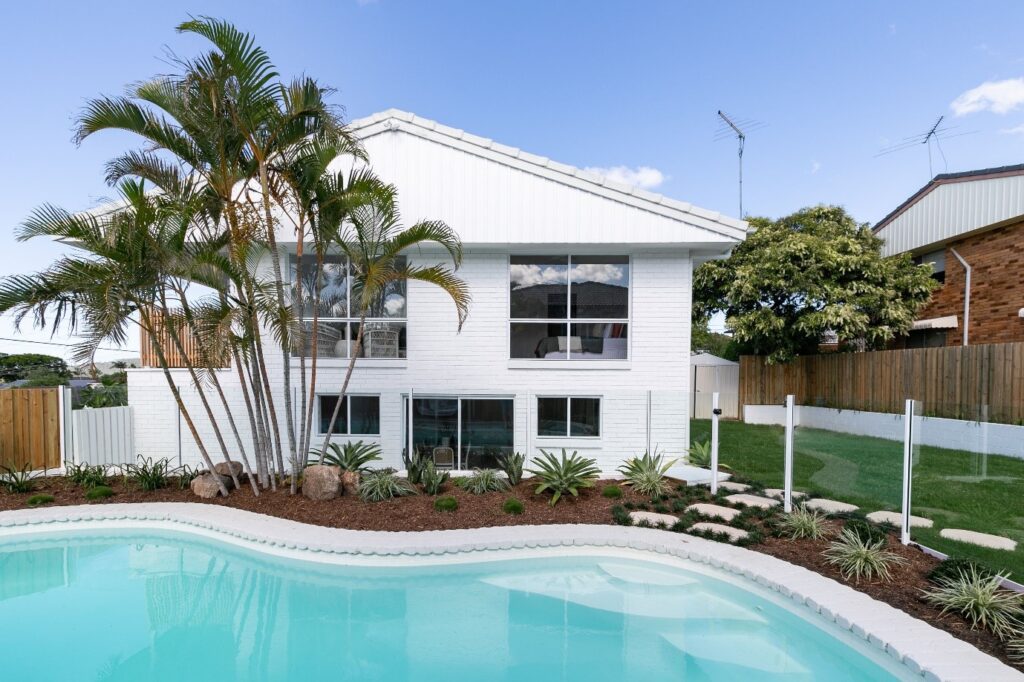 The Zou Build Team: Chris and Christal
Chris and Christal Fysentzou are a husband and wife team who run a building and renovation company based in Brisbane called Zou Build. Chris has spent 10 years as a builder and Christal brings her interior design and colour consulting expertise to projects. Together they undertake their own renovation projects as well as providing a renovation and building service to their clients.
The Zou Build team found and purchased a run-down home in Mansfield Brisbane and set about a large renovation, transforming the property into a modern functional home for 21st century family living. They chose two excellent products from Colormaker Industries to help realise their dream-home. ACRYLMERIC WeatherTuff exterior protective coating on the home's exterior and LUXAPOOL® swimming pool paint to resurface the old swimming pool. Read on to find out more about this amazing renovation.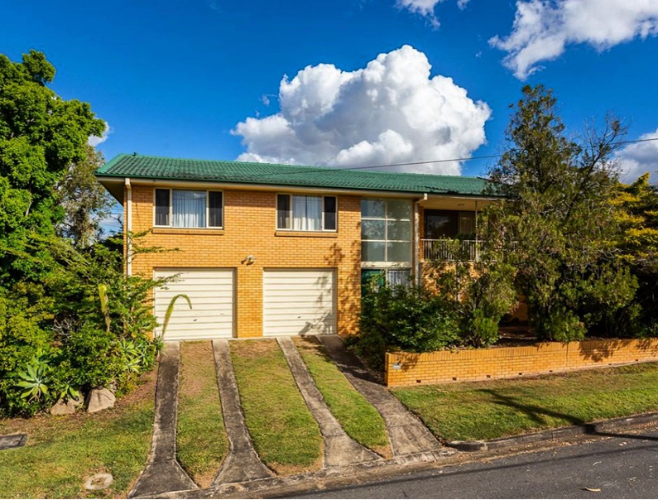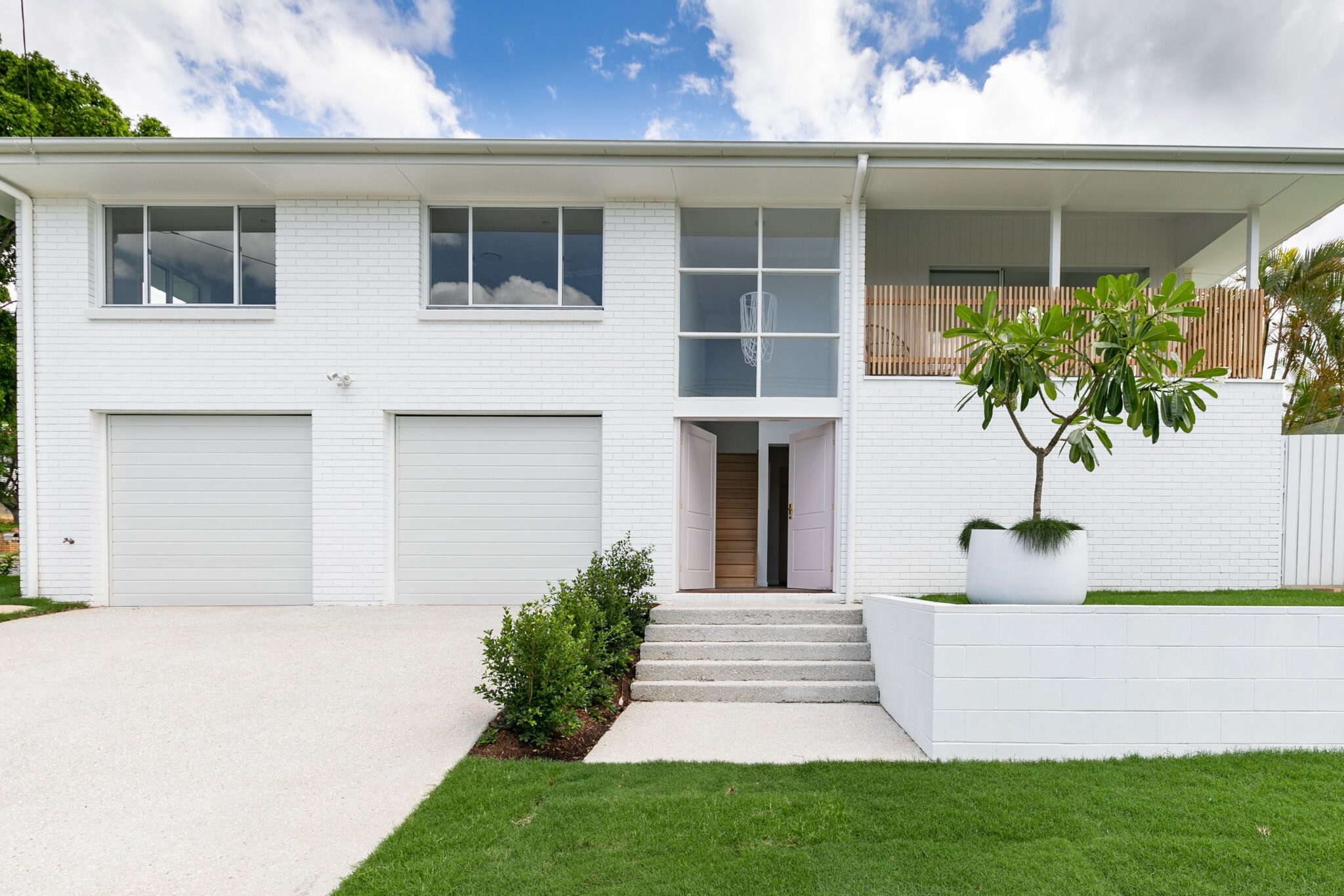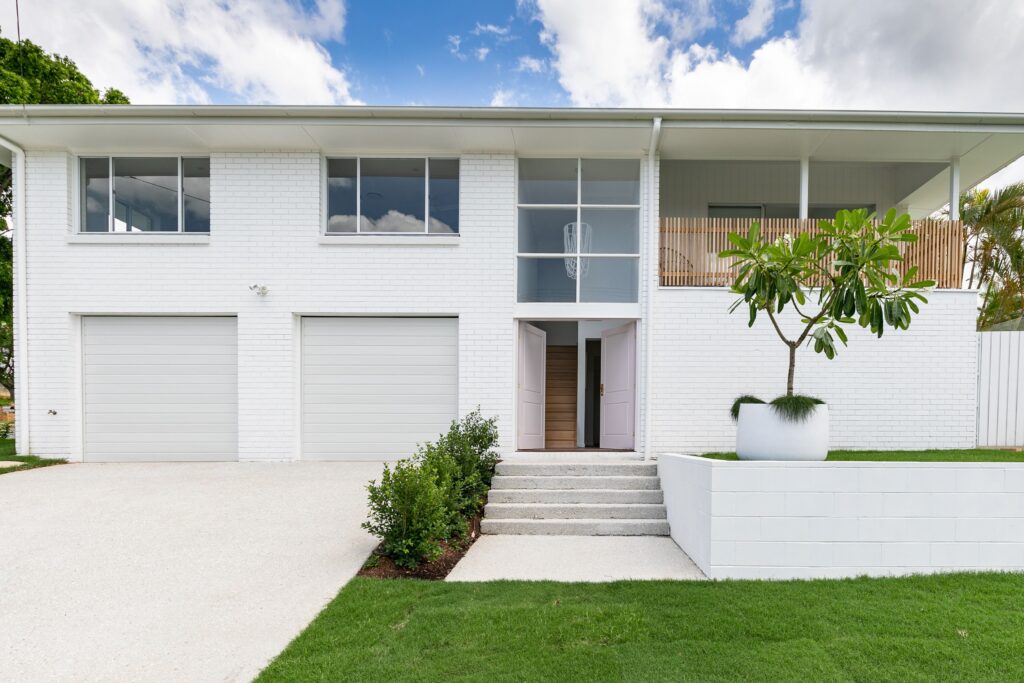 Before & After – Home Exterior
Project Danina
Location: Mansfield, Queensland
Duration of work: Three months
Renovators: Zou Build
Size: Five bedrooms and three bathrooms home with a backyard swimming pool
When the couple came across this home in the Brisbane suburb of Mansfield, they knew they were onto a good thing. Chris' profession as a carpenter and Christal's expertise in interior consulting meant they had the combined skills to take this dated home and turn it into a modern family abode, fit for contemporary living; all with the intention of flipping it within a 3 month timeframe.
Painting the Home Exterior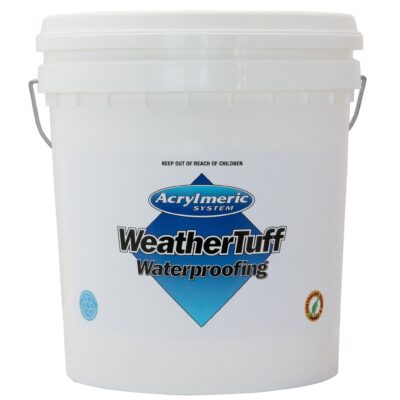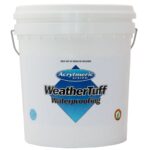 Rather than using a regular exterior paint, Zou Build chose ACRYLMERIC WeatherTuff Exterior coating in Arctic White to paint over the exterior bricks of the home. This elastomeric water-proofing membrane expands and contracts with Australia's extreme temperatures protecting the home from sun and rain. WeatherTuff is also low-VOC, inhibits the growth of algae, will not crack or peel, covers surface imperfections such as hairline cracks and can be applied by roller, brush or spray.
"The WeatherTuff Arctic White colour was perfect for the coastal vibe we were aiming to create throughout the entire home" advised Christal.
ACRYLMERIC WeatherTuff is also available in a large selection of 22 COLORBOND® colours plus Black and Light Grey. Click here to see the WeatherTuff colour range.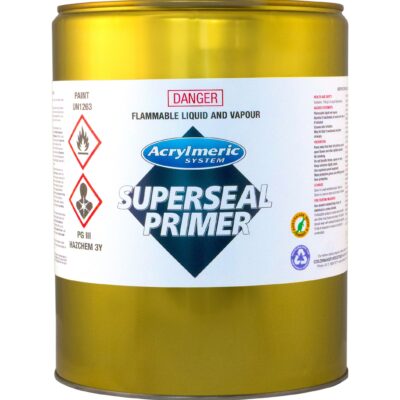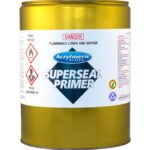 The exterior of the home was first undercoated with ACRYLMERIC Superseal Primer to penetrate and seal the bricks. Superseal Primer provides a uniform surface for over-coating with ACYLMERIC membranes and is suitable for application on surfaces such as masonry, concrete, cement render, brickwork or block walls.
Zou Build chose to spray paint the exterior of home with the ACRYLMERIC WeatherTuff in Arctic White. The finished result was a beautiful white exterior with tropical plantings in keeping with the beach theme of the home.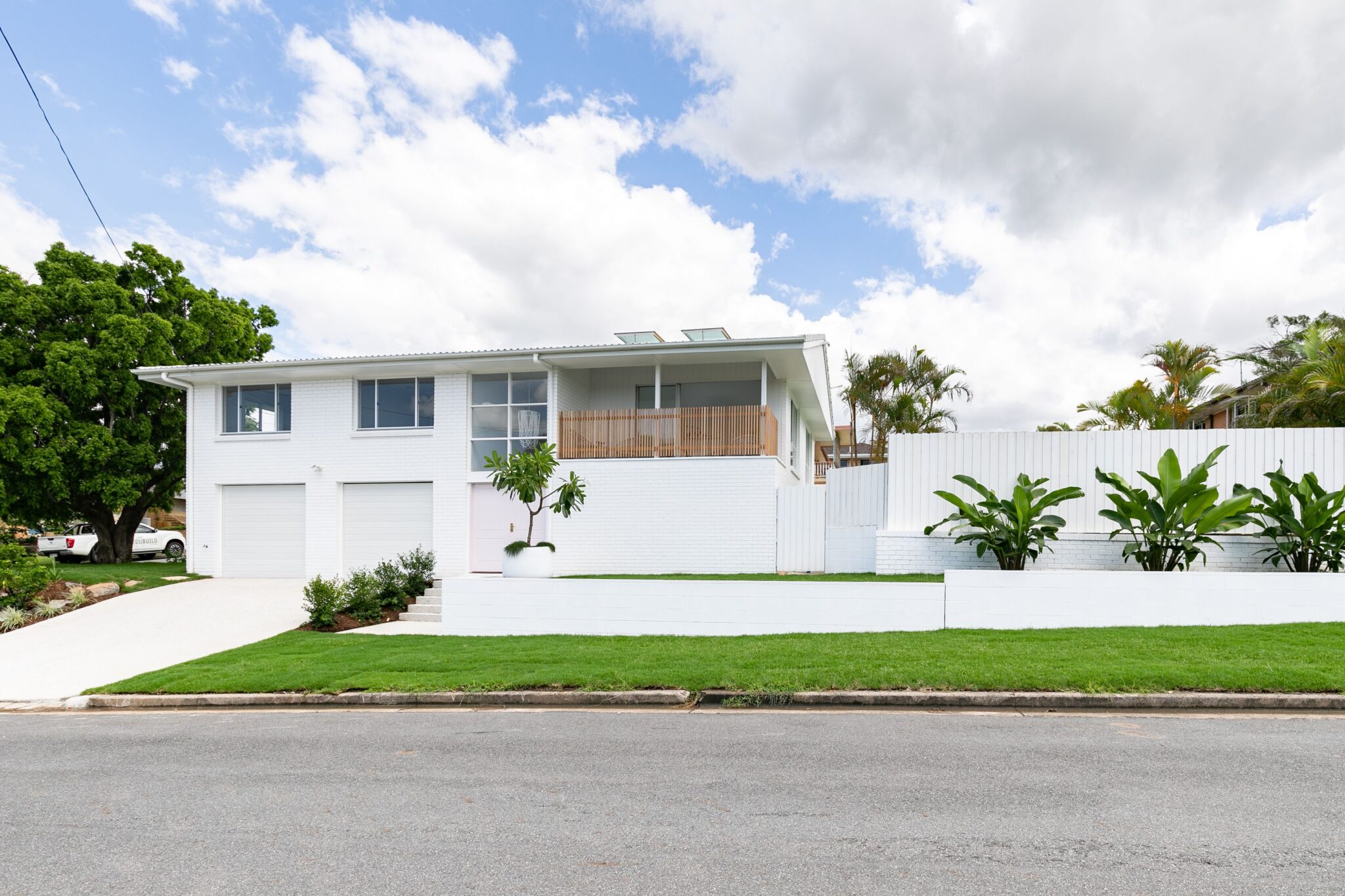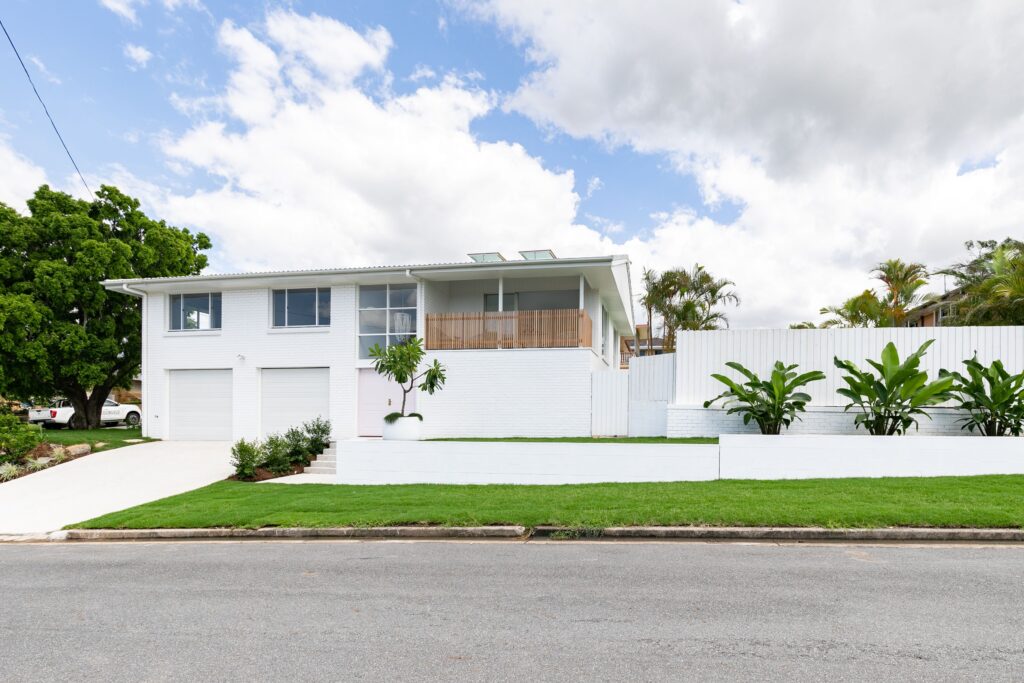 Resurfacing the Swimming Pool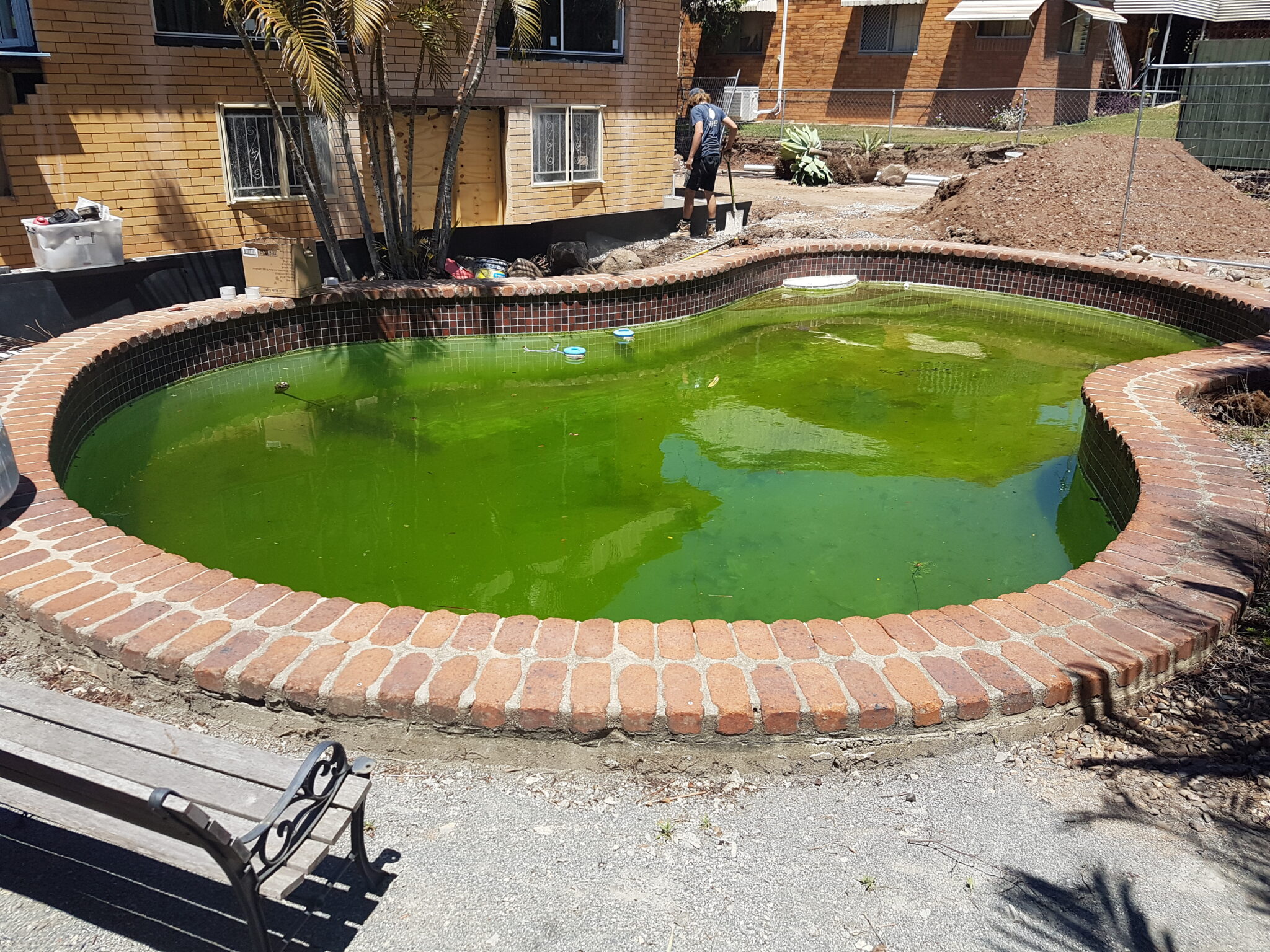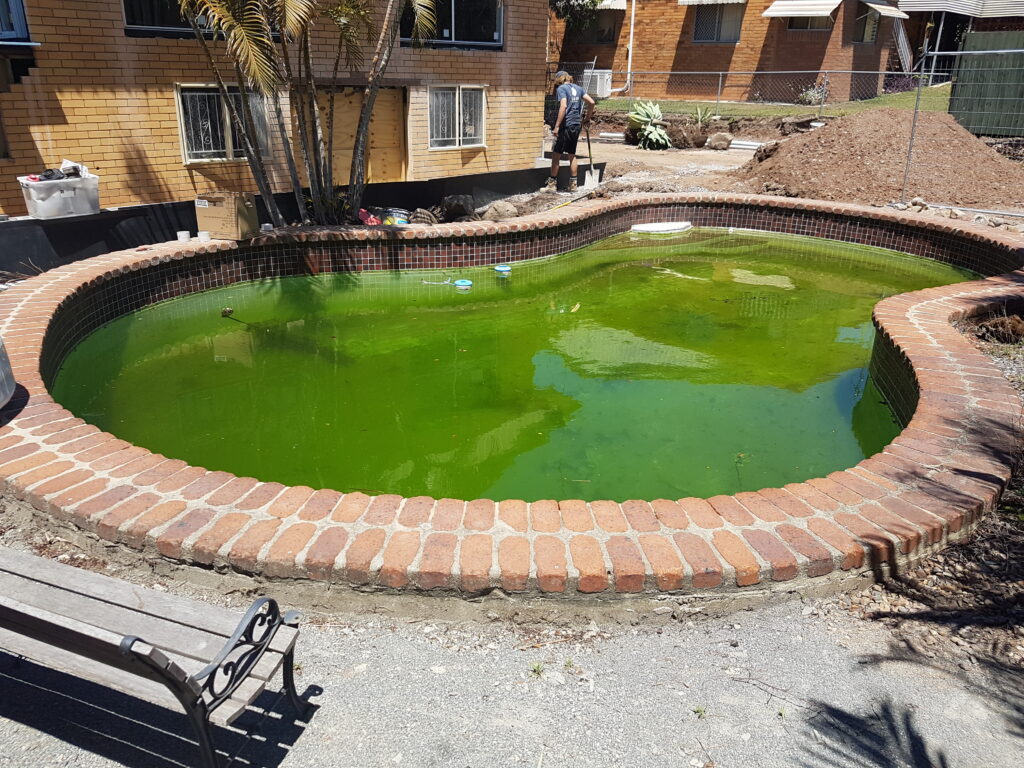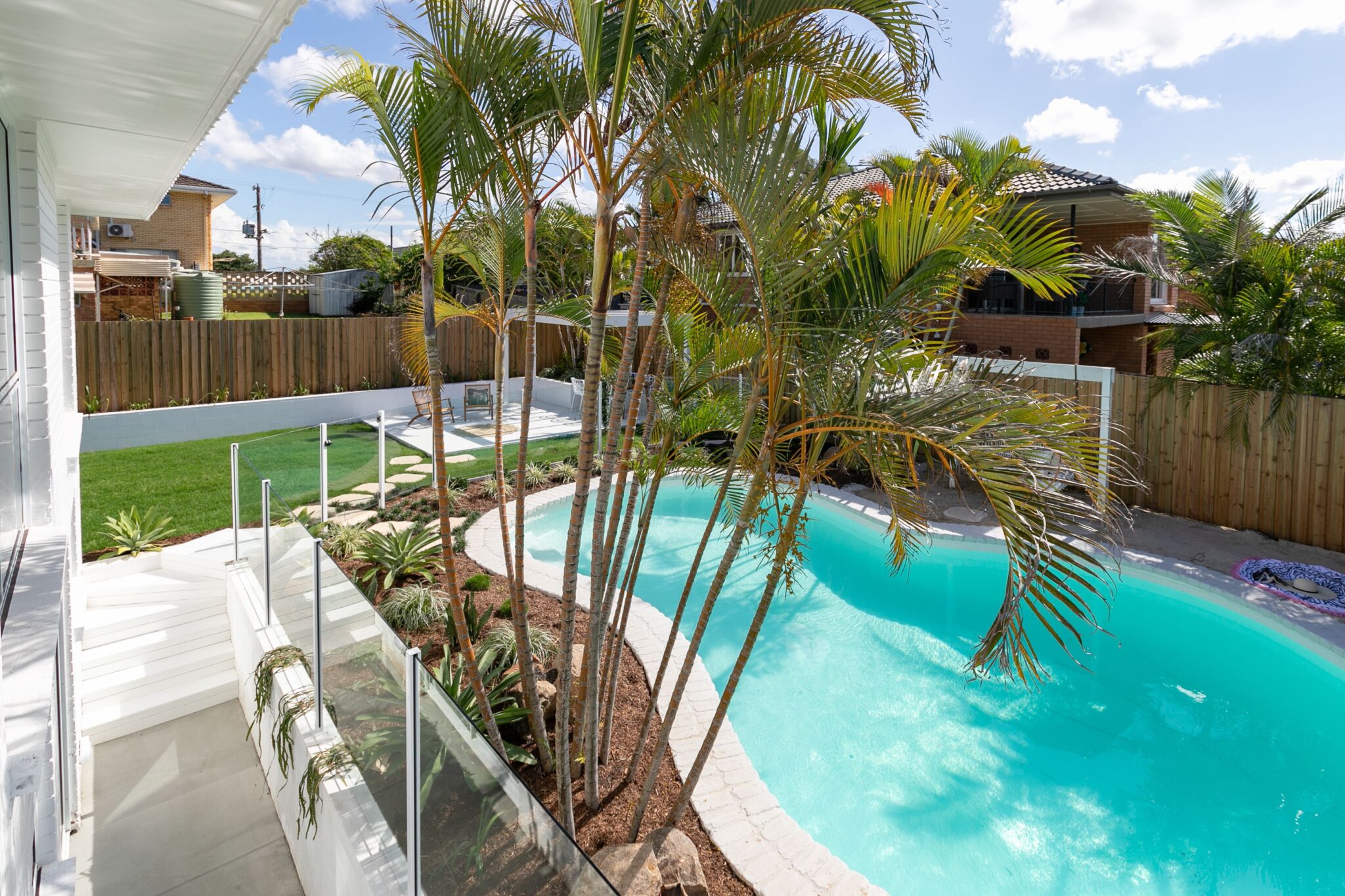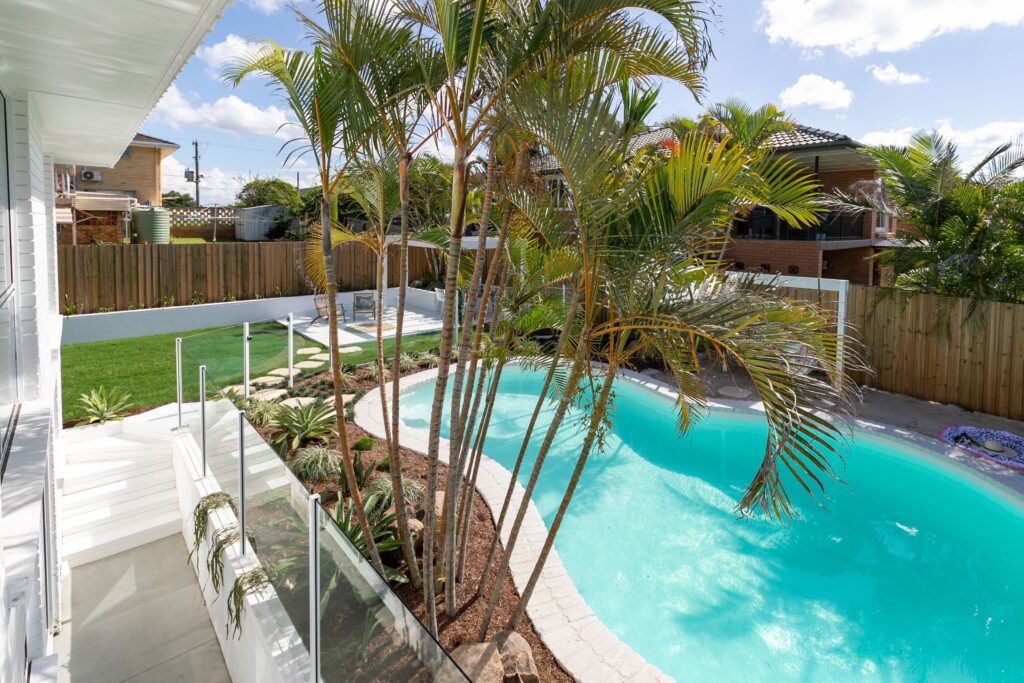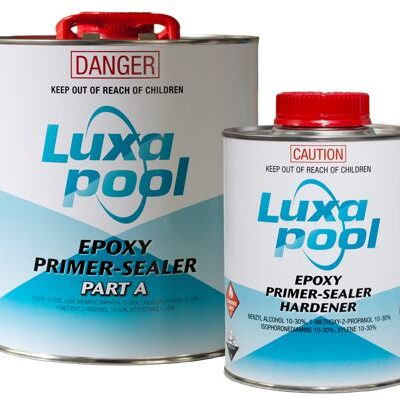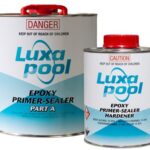 Outdoors, Christal and Chris wanted to create a resort-style feel and engaged Elizabeth Weyer Outdoor Design to assist with the plant selection and design. The swimming pool was an old concrete pool which had been previously painted with an epoxy pool paint. They sanded the old coating back, applied LUXAPOOL Primer Sealer to create optimum adhesion, then repainted the pool using 2 coats of LUXAPOOL® Epoxy swimming pool paint in White to create the look of a tranquil lagoon.
LUXAPOOL® is the trusted brand in pool coatings and has been the performance benchmark in pool finishes for over 45 years. "Choosing LUXAPOOL® was a no-brainer for us as were looking for a product which would produce a luxurious finish, was long-lasting and made in Australia" advised Christal. LUXAPOOL® Epoxy coating lasts 8-10 years with 2 coats and is produced by Colormaker Industries, an Australian owned company.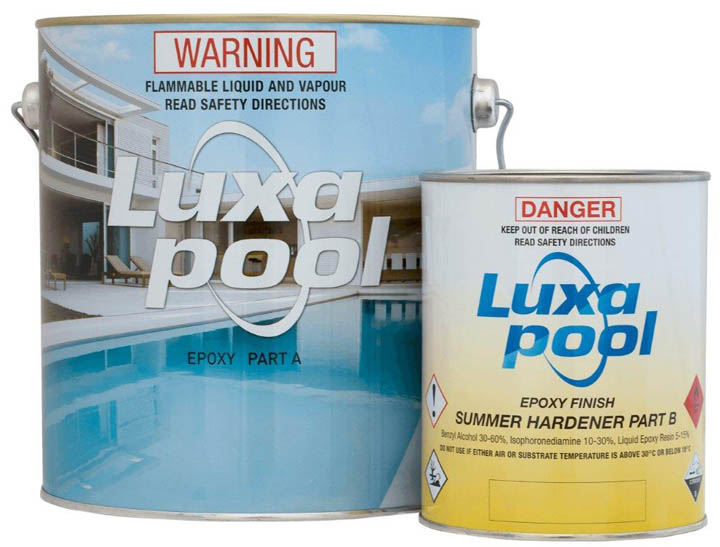 LUXAPOOL® Epoxy pool coatings can be used on a range of surfaces including new cement render, fibreglass, marblesheen, pebblecrete and previously painted epoxies. LUXAPOOL® also has the largest selection of pool colours to choose from Click here to view the LUXAPOOL® Pool Colour Range.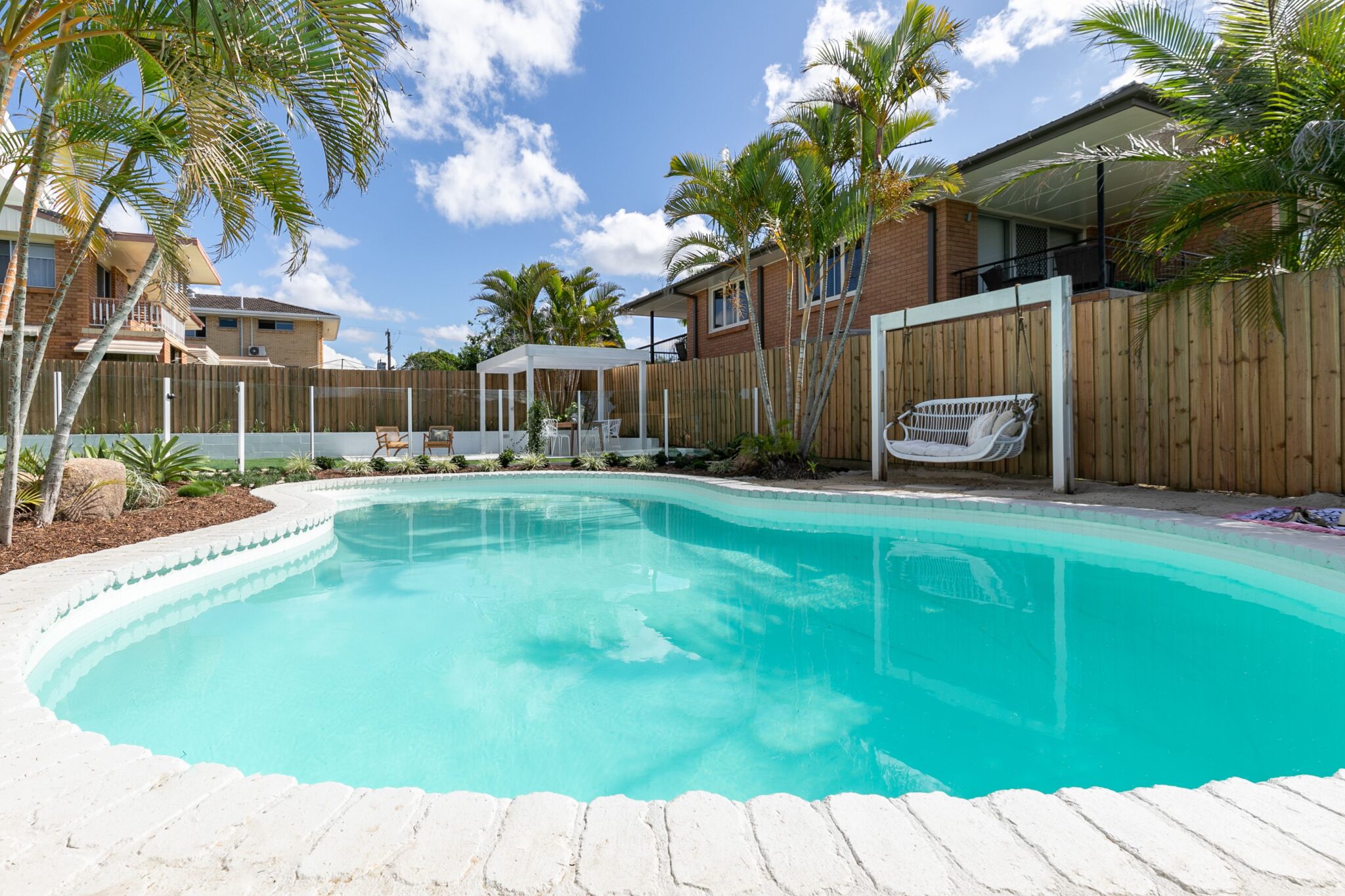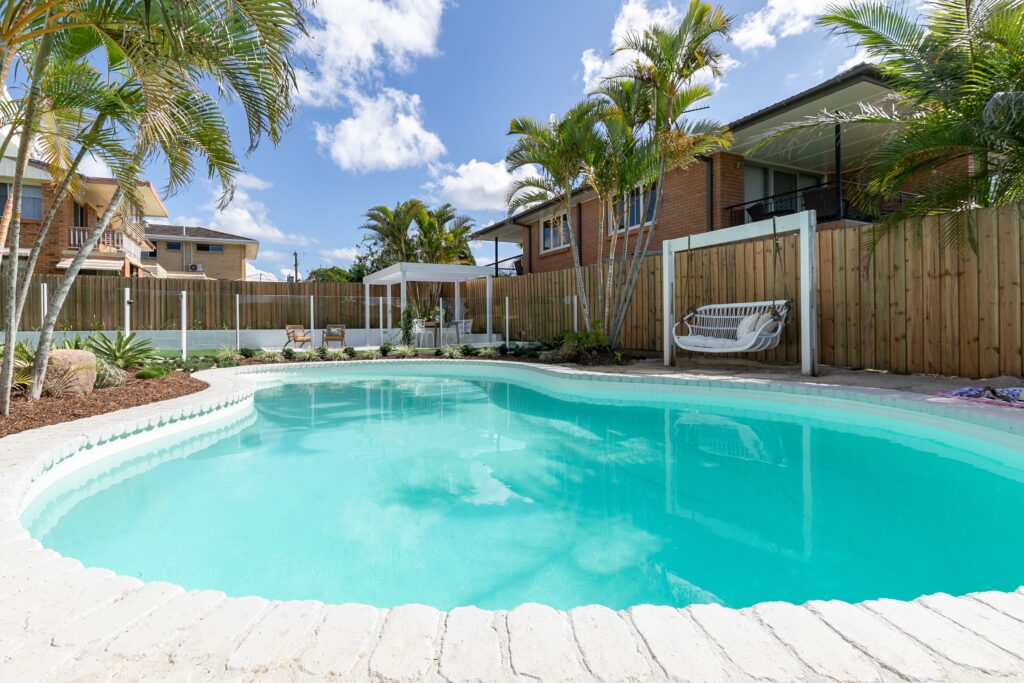 For more information about ACRYLMERIC® WeatherTuff protective coating click here, or for further information about LUXAPOOL® Epoxy swimming pool paint click here. Alternatively, phone Colormaker Industries on 02 9939 7977 for further information or visit our Stockist Search to find your local stockist.