Colormaker offers two excellent Paving Paints:
1. COLORMAKER OIL-BASED PAVING PAINT
Colormaker's Oil-based Paving Paint is a full gloss, long lasting and durable interior and exterior paving paint designed specifically for concrete and flooring applications. It offers excellent resistance to scuffing and marking and is supplied ready to use from the container.
APPLICATIONS
Areas where Colormaker Oil-based Paving Paint may be used include verandahs, patios, laundries, workshops & showrooms, handrails, garage floors and light industrial areas.
COLOURS AND COVERAGE

Oil-based Paving Paint is available in 10 stock colours with 4 tint bases allowing an almost unlimited range of colours. In fact Colormakers offers the largest range of Paving Paint colours! Oil-based Paving Paint can also be tinted to match any COLORBOND® colour.
Coverage is approximately 12m²/L depending upon surface type and general condition.
To view the colour range, download our Paving Paint Colour Chart
NON-SLIP ADDITIVE
A non-slip finish is available and can be added to the formulation if your job requires it.
SIZES AVAILABLE
Available in 1L, 2L, 4L, 10L and 15 Litre sizes
Click here for further information about Oil-Based Paving Paint.
2. COLORMAKER NEW WATER-BASED LOW-VOC PAVING PAINT
This innovative new product is perfect for enhancing the appearance of old and new concrete, stone surfaces and brick work. This includes walk-on areas such as floors, paths, courtyards, patios and driveways; as well as retaining walls, feature walls and pots. Tough and hard-wearing, Water-based Paving Paint is a low-VOC formulation which provides a durable finish which is also weather-resistant for indoors and out.
FINISH
Water-based Paving Paint delivers a Satin finish, for those people not wanting the Gloss finish of our Oil-based Paving Paint.
SELF-PRIMING
Colormaker Water-based Paving Paint is a self-priming product which cuts down painting time and contains no smelly solvents making it very easy to clean up with water.
COLOURS AND COVERAGE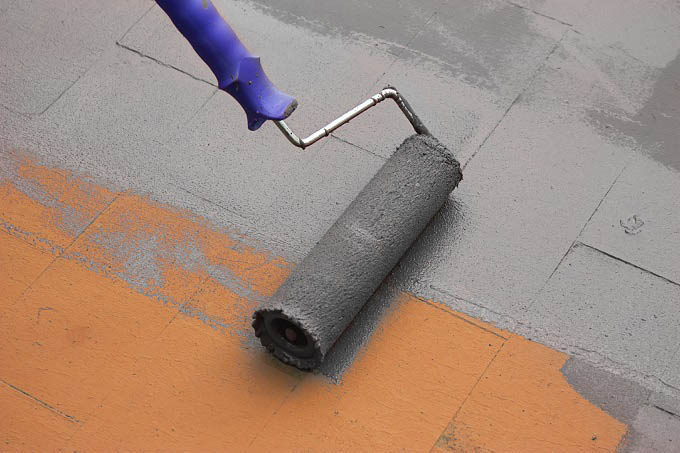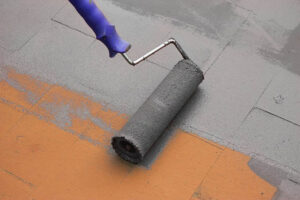 Water-based Paving Paint is available in six factory colours, as well as 4 bases enabling you to match almost any colour. Factory colours include Tempest Grey, Road Marking Yellow, Sandstone, Black, Ferric Red and Royal Green (as shown below).
Coverage is up to 12m²/L depending upon surface roughness and porosity.
Road Marking Yellow
Road Marking Yellow
NON-SLIP ADDITIVE
A non-slip finish is available and can be added to the formulation if your job requires it.
SIZES AVAILABLE
Available in 1L, 4L, 10L and 15L sizes, for every job, big or small.
For more information about Water-based Paving Paint, see our Water-Based Paving Paint page.
To find out more about Colormaker's Paving Paint range phone 02 9939 7977, or to find your closest Paving Paint stockist visit our Stockist Search
HOW TO USE PAVING PAINT
Paving Paint is quite similar to regular paint, however there are certain ways to use it. Here are some suggestions:
Always prepare the surface that needs painting with paving paint. If you're painting over new concrete, make sure it's already cured before you apply the paint. This means the concrete should first be allowed to cure for at least four weeks prior to starting painting.  Colormaker has other products available for painting onto fresh / green concrete, see ACRYLMERIC WB Epoxy Primer Membrane
If you're painting over old concrete, clean it beforehand by using a suitable detergent /degreaser and then rinsing it thoroughly after with a pressure washer
New or smooth concrete should be acid etched with a solution of one part Hydrochloric Acid to five parts water, then thoroughly rinsed off with water.
If you're working on a previously painted surface? Clean it with a suitable detergent /degreaser, rinse it with a pressure washer (as above), and then remove any peeling and loose paint before applying a new coat.
Priming: it is preferable to prime bare concrete surfaces with one coat of ACRYLMERIC Superseal Primer 24 hours prior to painting to assist adhesion of the paving paint. New wooden floors should be primed with COLORMAKER Pink Wood Primer. You should follow the directions of use for all primers, and ensure the primer has completely cured before coating with the paving paint.
Non-Slip Finish: To achieve a non-slip finish you can add COLORMAKER Non-Slip Additive to COLORMAKER Paving Paints. You need to remove some paint from the paving paint can before adding the Non-Slip Additive. (for full details on this see Tech Data Sheet)
Before application, stir the Paving Paint thoroughly with a broad, flat paddle using an up and down scooping action for at least 5 minutes.
To apply paving paint outdoors, we recommend using a wide paintbrush or 12mm nap roller as these tools cover more area. With brush application, apply liberally and lay off with the tip of the brush. Paving paint can also be sprayed using an 11 thou/0.3mm tip with an air assisted or airless spray system. When using a spray, the paving paint can be thinned sparingly with mineral turpentine.
We recommend applying two to three coats of paving paint to any surface. This will add durability and give you a longer coating life.
Wait for at least 16 hours before applying a second coat. Plus ensure that surfaces coated with paving paint aren't subjected to heavy traffic for a week to make the most of the application.
Please refer to our Tech Data Sheet for information on the application of Colormaker's Paving Paints, including coverage etc.