ACRYLMERIC Primers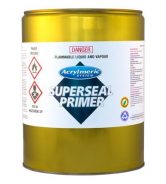 Colormaker offers a specialty primer for preparing substrates prior to coating with ACRYLMERIC top coats.  The product is ACRYLMERIC Superseal Primer.
ACRYLMERIC Superseal Primer
ACRYLMERIC Superseal Primer is a transparent, solvent-based acrylic resin solution designed to penetrate and seal substrates – it provides a uniform surface for over-coating with Acrylmeric Membranes. ACRYLMERIC Superseal Primer ensures excellent adhesion to most substrates, eliminates uneven absorption of subsequent coatings and minimises the possibility of loss of adhesion and efflorescence resulting from the leaching of residual alkali from the substrate.
Usually requiring only one coat, ACRYLMERIC Superseal Primer is suitable for internal and external application on surfaces such as masonry, concrete, cement render, brickwork, block walls, columns and beams, etc. ACRYLMERIC Superseal Primer is the partner product for priming/sealing substrates prior to applying any of the ACRYLMERIC membranes.
This product is great for use under ACRYLMERIC Wet Area Membrane, ACRYLMERIC Sportscote PFR and ACRYLMERIC Texacote topcoats.
For more information call 02 9939 7977, or to purchase see our Stockists
ACRYLMERIC Superseal Primer Technical Data Sheet
ACRYLMERIC WB Epoxy Primer Membrane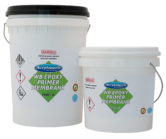 Colormaker's  ACRYLMERIC WB Epoxy Primer Membrane is an innovative 2-pack water-based epoxy primer/membrane which is used for priming and waterproofing a wide variety of substrates. Conferring resistance to hydrostatic pressure, this product is an excellent choice for use as a barrier on various surfaces outlined below.
AREAS OF USE
WB Epoxy Primer Membrane is excellent for waterproofing water tanks, fish ponds & Aquaculture ponds, retaining walls, tunnels and carparks
Can be used on a large range of substrates, displaying excellent adhesion to brick, concrete, masonry, concrete block, stone and fibreglass
Can be used on both damp and dry surfaces
Excellent as a primer for fibreglass, acrylic and polyurethane membranes.  Can also be used as a concrete curing membrane, or as a dust seal for concrete.  Click here for more
For more information call 02 9939 7977, or to purchase visit our Stockists
ACRYLMERIC WB Epoxy Primer Membrane Technical Data Sheet